Having trouble reading this newsletter? Click here to see it in your browser.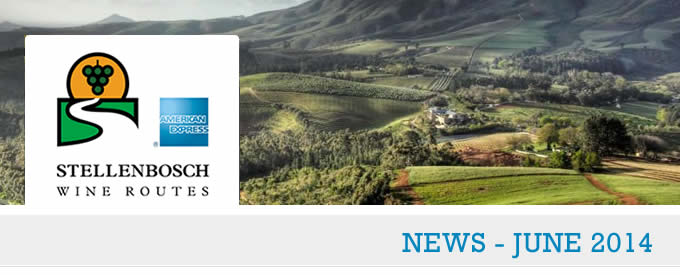 | | | |
| --- | --- | --- |
| | | |
| | Brrrr - it is winter in the Boland, which means the fires are burning and the red wine is flowing! | |
| | | |



The big news this month is that we made the sought-after shortlist for The Drinks Business Awards 2014 as a contender for the Best Contribution to Wine & Spirits Tourism title, for the second consecutive year.

Read more HERE.

The SWR team, from left to right : Tamzin Isaacs, Elmarie Rabe, Shantal Wollow and Annareth Bolton.






Tim Loonen, of Tripbod, is the winner of the "Stellenbosch Ultimate Bucket List Competition" launched in the run-up to ITB in Berlin. Tim was one of more than 300 top trade representatives who attended the Tripadvisor ITB Networking Event where Stellenbosch was showcased. He and his fiancee will be flying out to South Africa at the end of June, courtesy of South African Airways, to experience the "ultimate bucket-list holiday" in one of the world's most beautiful regions.

Read more about this on our blog and be sure to follow @Tloonen on Twitter for a personal account of his experiences in Stellenbosch.






At the third annual Christian Eedes Cabernet Sauvignon Report, SWR members walked away with 9 of the top 10 wines.

For the full list, click HERE.






We would like to invite you to Stellenbosch, with our three value-added packages.


From as little as R1 200 per person, you can Come Sit, Stay & Savour Stellenbosch, which includes two nights' accommodation, dinner, lunch and two activities selected from a "bucket list" of authentic Stellenbosch experiences.

Click HERE for more info, or phone 021 887 2920.


Well, that sure is a glassful! Make sure you visit our blog for all the latest news and events.

Until next time!

Annareth Bolton
CEO Stellenbosch American Express® Wine Routes