We are pleased to share some results from the latest season of competitions -
The Ken Forrester Sauvignon Blanc Reserve 2015 was revealed as one of the Top 10 wines at FNB Top 10 Sauvignon Blanc Challenge.
We always look for a hint of tropical ripeness, as well as a crisp clean backbone to carry the wine. To achieve this, grapes are hand-picked from 3 vineyards, approximately 300 miles apart. This gives three unique flavour profiles; all made separately and then blended straight after being drained off the lees.
This wine is available at R80 per bottle from the cellar door. Order here.

Tim Atkin's South African Report was launched in August. Tim has been visiting the Winelands since 1990 and this year's report is his most comprehensive thus far on South Africa.
We are pleased to share our results:

Dirty Little Secret 2015 - 95 points
The FMC 2014 - 94 points
Ken Forrester Old Vine Reserve Chenin Blanc 2015 - 92 points
Ken Forrester Roussanne 2013 - 91 points
The Gypsy 2012 - 91 points
Click here for more information or to purchase the full report.





No, it's not always the higher price tag that pleases the palate. All 7 wines in the Petit range were applauded at the Ultra Value Wine Challenge, with the Petit Pinotage receiving at 91 points.
Both the Petit Chenin Blanc and Chardonnay received a gold award at Gold Wine Awards 2016.
There are times - lots of times - in life when to paraphrase another famous quote when a wine needs to be a drink! Yes imagine that? Wine in the "beverage" category!!
When you get home from work and you NEED a glass of wine and you reach into the fridge and pour a chilled glass, take a sip and think "nice" ah ha! The simple "nice" is like 100 Parker points all your expectations were met and that is precisely the passion behind the Petit Brand.
Hand harvested, carefully crafted wines for sheer enjoyment!





As many of our customers and friends know by now, Forrester Vineyards has signed a partnership deal with AdVini, a French wine distribution company listed on the Paris stock exchange and a major international player and wine distributor. This will open up new markets and add organic distribution to the brand. Click here to read more about this.

Opening Hours

Monday - Friday: 09h00 - 17h00
Saturday: 09h30 - 15h30
After Hours Tastings at 96 Winery Road Restaurant
Closed : Good Friday, December 25th, January 1st.

Your passion towards our brand is cherished, thank you for sharing.
Cheers!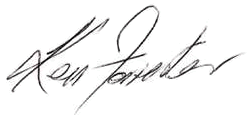 Ken, Teresa and the Ken Forrester Wines Team