Having trouble reading this newsletter? Click here to see it in your browser.



DEAR FRIENDS
Amor diVino is Italian for "Love of Wine". I like the words because I have been happy in my life to drink wonderful wines that I love, and to make wonderful wines that I love even more.

And so I am happy to tell you about Amor diVino at Morgenster. It is our new wine and olive club which offers its members special prices on my special wines and olive products.
What is also wonderful to me is that Margi in our tasting room tells me that it does not cost anything to become a member! Once you register you can get all the benefits that she has put together. I think I must go down there and sign up, it sounds like a good offer. I hope you will join me as a member too. You can find out more and register here.

For the first time one of my Bordeaux wines has been selected for the Nederburg Auction which will take place on 16 and 17 September. It is Morgenster Reserve 2000, a wine that is very special to me because it is the first that I bottled under the Morgenster label with the blue capsule. The 48 bottles going on auction are all that I have left for sale of that much awarded blend of Cabernet Sauvignon and Merlot. I hope I see you there?

Till next time,

Ciao!
Giulio.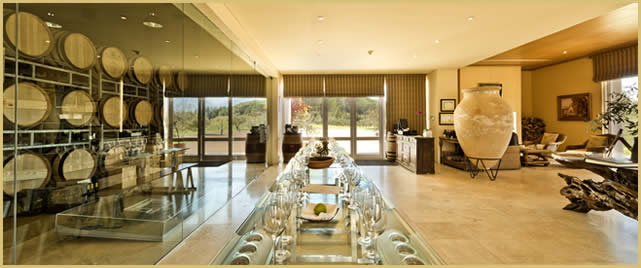 FROM HENRY IN THE WINE CELLAR
During September I will be going to Tuscany with Mr Bertrand and Corius Visser, our Farm Manager, to Montepulciano and Montalchino to expand our knowledge and experience of Sangiovese. We are also visiting the Barolo and Barbaresco regions of Piedmont to further our expertise in handling Nebbiolo.

This is part of our ongoing plan to acquire the same level of best practice for our Italian Collection wines as we have for our Bordeaux through our association with Pierre Lurton and his team at Château Cheval Blanc. I will be going to Cheval Blanc after the Italian trip to taste through the 2016 Bordeaux blends.

The Bordeaux wines I have selected for the tasting room to present during September are: Morgenster White 2014; Morgenster Reserve 2003 and 2012; Morgenster Lourens River Valley 2004 and 2012.
OLIVE CELLAR NEWS

The olive factory is receiving a surge of orders for the new harvest Morgenster extra virgin olive oil. This is keeping Nico and his team pretty busy – just as they like it!

Here (from left to right) are Thandi Matsheki, Nosipho Mcaba, Alidah de Vries and Magdalena Hartnick who are packing boxes as fast as they can to send our luscious Morgenster extra virgin olive oil 2016 to customers both near and far.

SLOW COOKED PORK BELLY WITH FENNEL PUREE, SALSA VERDE AND FENNEL CRISP

Jaryd Sparg has recently joined 95 @ Morgenster as head chef, bringing with him over a decade of local and international experience. Here is his recipe for slow cooked pork belly with fennel puree, salsa verde and fennel crisp.