Having trouble reading this newsletter? Click here to see it in your browser
.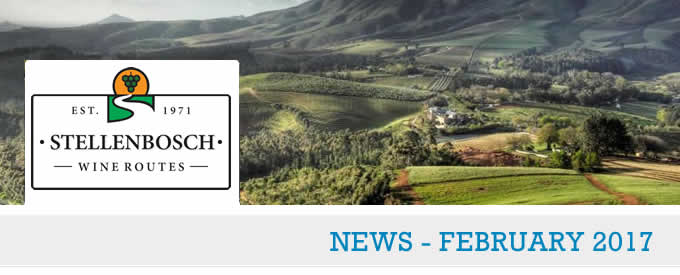 Dear winelover

It's harvest time in the Stellenbosch winelands and the air is laden with nervous excitement and the smell of fermenting grape juice. We wish all our producers good luck and look forward to sample the 2017 vintage (thought to be great).

Itís almost time for the hugely popular Stellenbosch Wine Festival presented by Pick n Pay. Returning to the picturesque Coetzenburg Sports Grounds from 24 to 26 February 2017, the festival will be jam-packed with activities for the whole family. Hereís why you canít miss it ...

Jagveld Movie Premiere...



Be one of the first in South Africa to see the suspenseful new action thriller JAGVELD (Afrikaans language, with English subtitles) - starring Leandie Du Randt, Neels van Jaarsveld, Tim Theron, Tertius Meintjies and other top local actors - an official event of Stellenbosch Wine Festival presented by Pick n Pay.

Venue: Warwick Wine Estate
Time: 18h00 for 20h00
Tickets: R100 (movie only) R250 (movie and wine festival ticket combo). Buy tickets online here.

Toks 'n Tjops Live



If youíre a fan of the irrepressible Toks 'n Tjops team, then this is one you donít want to miss! On Friday 24 February at 8pm you can be part of the fun as the team go through their hilarious shenanigans live on set from the festival - a truly one of a kind experience! Access to the set is free with your festival ticket.

Pick n Pay Womenís Walk



Earn that extra glass of wine by participating in this 5km family walk in aid of breast cancer awareness and education. Despite the name everyone is welcome, so bring the whole family to support this great cause. Bring your unique walk number along to the Stellenbosch Wine Festival on either Saturday 25 or Sunday 26 and only pay R100 for your Festival entry! More details here.


Wine, wine, wine...



Savour the Stellenbosch lifestyle during the 2017 Stellenbosch Wine Festival presented by Pick n Pay from 24 - 26 February at Coetzenburg Sports Grounds. Sample some of the best wines in the country, indulge in gourmet food offerings by top restaurants, enjoy live music and take part in fun activities in picturesque surroundings. The three-day lifestyle Festival will showcase hundreds of Stellenbosch wines from award-winning producers to small boutique wineries. Buy your tickets now (click on this link) and stand a chance to win!


WIN WIN WIN

BUY YOUR TICKETS HEREÖ and stand a chance to win wine and lifestyle prizes!
Your name will be entered into a daily draw to win wine hampers from Stellenbosch, or get your tickets free.

We look forward to seeing you at the Stellenbosch wine festival!

The Stellenbosch Wine Routes team

Visit Stellenbosch Wine Routes Visitor Centre at
47 Church Street, for information, recommendations, referrals on wine tasting, tours, accommodation, experiences and activities.

Open 7 days a week.
Monday to Friday 09h00 till 18h00.
Weekends and public holidays 09h00 till 15h00.

| T | +27 21 886-4310 & +27 21 882-9063 ē | E | info@wineroute.co.za ē | W | www.wineroute.co.za

47 Church Street & 36 Market Street, Stellenbosch, 7599

No longer wish to receive this newsletter? Unsubscribe from this list.