DEAR FRIENDS


Giorgio Nava and me in front of Alessandra's picture.

In December we think about Christmas and our friends and family around the world. And Christmas presents. For three years now I have the same Christmas present, but I am happy because it is the best one I could get.

Our Morgenster extra virgin olive oil has once again received 98% from the expert tasting panel of Flos Olei, the world's most authoritative competition and guide to good olive oil.

Only 13 farms were scored 98% by Flos Olei 2016, and Morgenster is one of only 11 that has received 98% three times in a row.
Last month I promised to tell you about a piece of art that I am very proud of. It is the only one in the new restaurant that is not from my South African collection, but as it was made by my daughter, Alessandra, it is with great pleasure that I added it to the selection to share with you. The piece is called 'O GIRASOLE MIO' and is a work in wax. I have hung it in 95 At Morgenster so it can immediately be seen. It was hanging in the Espace Gaia gallery in Geneva when I saw it for the first time. I made Alessandra an offer which, luckily, she accepted! It is inspired by the work of Mathematician Fibonacci's first book from 1202 (Can you imagine? Not even I am that old!), and how that work applies to the seeds of the sunflower and the concentric rings that they form.

Till next time, I say Buon Natale and ciao, and from the whole team you see our best wishes below …

Giulio.



From left to right, front: Hendrik, Henry
Back: Corius, Mike,Giulio, Gerrie, Judi

Naithan, Samuel, Henry

Avril, Judi, Michelle

Corné, Huibré, Judi, Henry

From the top, clockwise: Mike, Louine, Hendrik, Sunette

Corné, Roelof, Adrian

Front: Jojo, John, Nico
Back: Noshipo, Alida, Martha

Hazel, Magda

Marina, Nicoleen, Alex, Liezle, Jodi, Paul

Back: Zara, Sylvie, Margi, Margaretha, Aletta.
Front: Anri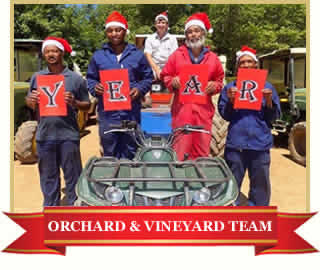 Front: Stephan, Sinethemba, William, John
Back: Henco