Today, from my home in Biella, I like very much but disagree a little bit with Henri Murger and his quote above, but I forgive him because his book inspired one of my favourite operas - La Bohème by Puccini. I am smiling a lot because they told me about the triumph of Morgenster White 2013 in the 2015 Old Mutual Trophy Wine Show.
I hear that 1082 wines were judged blind by a panel of important judges, international and local, who awarded Morgenster White 2013 not only the Grande Roche Trophy for Best White Blend (94/100 points) but also the Old Mutual Trophy for the Best White Wine Overall. 20 trophies awarded and Morgenster and Henry, my winemaker, came home with two!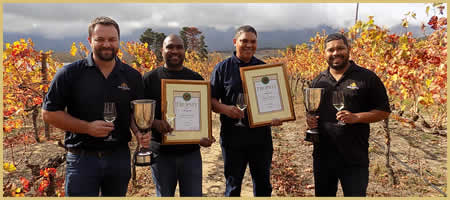 Our proud winemaking team with their trophies, and of course, a glass of Morgenster White 2013: Henry, Samuel, Adrian and Nathan.
Our Managing Director, Judi Dyer, is back at Morgenster after her sales trip around America and the UK. In the USA, part of her trip was with other top South African winemakers and owners. They covered over 3000 miles from New York City to California in three weeks, taking in top markets in nine major cities where our New York based wine importer, Cape Classics, has dedicated regional sales managers.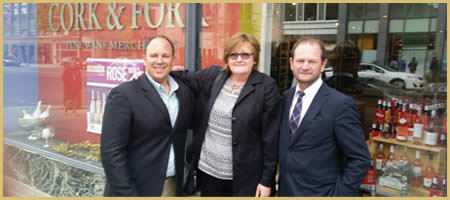 Judi and Pierre (right) with Jeff Mooney of Cape Classics.
Pierre Lurton, managing director of France's Château Cheval Blanc and Morgenster's wine consultant, joined the Morgenster visits for a day to key accounts in Washington DC.
Judi has become our TV celebrity chef! You can see her demonstrating a pesto recipe on the SABC 3 Expresso Show of 27 May HERE.
The annual Morgenster olive harvest festival took place over four days at the beginning of May. Visitors from retailers, restaurants, the media and students from culinary schools were given a tour around our olive cellar and tasted one of the pleasures I remember from growing up in Italy - fresh olive oil coming straight from the press. Wonderful!