Having trouble reading this newsletter? Click here to see it in your browser.



DEAR FRIENDS
In the picture under my letter you can see what 900 glasses of wine look like! That is what Judi tells me our team poured in April for our guests when I released my 2012 Morgenster Reserve and Morgenster Lourens River Valley blends and 2013 Italian Collection Nabucco and Tosca. You can read more about these wines here.

Henry our Cellar Master and Pierre, our consultant from Cheval Blanc (here they are on either side of me), presented our two new Bordeaux blends which I am happy were very well received. Then we tasted the 2013 Nabucco and Tosca with, for the first time, a vertical tasting 2010 – 2012 to compare their evolution. I was excited by the wonderful response.

As you know, I am a little bit fond of these wines! It seems a long time ago that I imported special clones of Nebbiolo and Sangiovese from Italy. The only place in South Africa where these clones are planted is here at Morgenster. I had to wait till 2006 to release my first vintage. Now my 10th vintage of Nabucco and Tosca is about to be bottled and the 11th is in the cellar.
While I review this note, Judi is in the United States with our importer Cape Classics, presenting Morgenster wines to existing and new customers. She is visiting Washington DC, Miami, Austin, Dallas, Houston, Los Angeles, Chicago, Boston and New York City. After the braai event in Miami (in the pouring rain), we received wonderful words of praise from Michael Bittel of wine merchant Sunset Corners in Miami, who said our Morgenster Lourens River Valley 2010 was "The best red wine we've tried this year". You can see what Michael said here.
Till next time,
Ciao!
Giulio.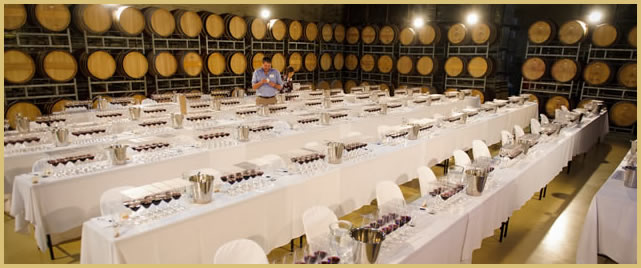 FROM HENRY IN THE WINE CELLAR

April is always busy because that is when Pierre Lurton tends to join us from Château Cheval Blanc. This year was no different, as not only did we work on releasing our 2012 Bordeaux and 2013 Italian Collection wines, but Pierre, our team and I tasted through all our red and white Bordeaux blends to determine their evolution and decide what quantities we should make available for the next release from our maturation cellar. As they say, it's a terrible job, but someone has to do it ...
FROM JUDI: OLIVE CELLAR NEWS

Giulio has mentioned the epic journey that I am on across the USA. While it is predominantly about the wines (for which we are attracting fabulous reaction), it is impossible, or perhaps a little irreverent, to talk only about the wines without mentioning or being asked about Morgenster Extra Virgin Olive oil. So at every opportunity we talk about our fabulous Morgenster olive oil in the now widely recognised embossed Morgenster bottle. I also talk of the 2016 harvest nearing completion, which I was lucky enough to taste on several occasions before I left, straight from the press, warm and fragrant with the pungency that only fresh olive oil can deliver.

OLIVE OIL, LEMON AND ROSEMARY TEA CAKES

"To see people enjoy the cakes and food I have created is the most rewarding feeling in the world!" Lorraine Swanepoel of Coco Vanilla Foods shares her recipe for delicately flavoured tea time treats, Olive oil, lemon and rosemary tea cakes.