DEAR FRIENDS
At last I am enjoying lunches at our restaurant on the Estate, 95 At Morgenster. For dinners, we need to wait a little longer, but if I am lucky it will be before Christmas. The dishes that Giorgio Nava has put on the menu are based on authentic Milanese cuisine from northern Italy. It is my favourite real Italian food made from highest quality local and imported ingredients. Squisito! After our long wait, we think the restaurant is squisito too. What do you think?




Here I am with Luke Bailes, the owner of Singita,
with his brother-in-law, Japie de Wet.

I recently had the pleasure of another wonderful food and wine event. Every year, for the past 19 years, Michael Fridjohn offers his Wine Experience weekend in September where he provides some of the world's best wines together with exceptional food at the Hyatt Regency in Johannesburg.
We like to thank our friends at Pick n Pay; it was a long wait of 5 months but we are now in a position to be able to get our Morgenster Extra Virgin Olive Oil back on the shelf in most of the stores where we were before. If by the end of October it is still not in the store where you like to shop, I remind you that it is also in Woolworths, Checkers and Spar.
I am also happy to tell you that Morgenster Reserve 2011 red Bordeaux blend has been listed by Woolworths in 32 selected stores.
Morgenster was nominated again for a Klink Award in the Connoisseur category. When you visit the farm between now and 13 November please vote for us!

Till next time,

Ciao!!
Giulio.



FROM HENRY IN THE WINE CELLAR
Last month Judi pictured me against the New York skyline. This month I have been wining and dining with royalty at the Koninklijke Industrieele Groote Club in Amsterdam where I conducted a Master Class with Morgenster wines in the prestigious Members only Club.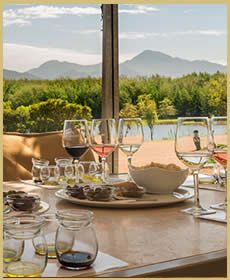 FROM THE OLIVE CELLAR
This is an exciting time for olives. The trees are flowering and it is at this stage that we start looking at the potential crop that they will produce next year. In the 2015 harvest the various cultivars unusually ripened almost at the same time. This year they seem to be flowering in stages, so we are assured that the 2016 harvest will be much longer than it was last year. We watch the weather and olive groves closely for the new and exhilarating challenges that nature always gives us to work with.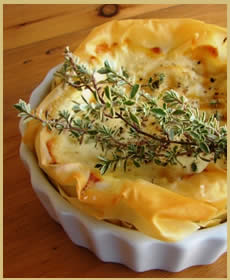 With lazy summer time lunches in mind, Chef Angie Boyd of the Sense of Taste Chef School gives us a recipe for a delicious Bacon, Onion and Thyme Quiche to enjoy with salad and chilled Nu Sauvignon Blanc »