Having trouble reading this newsletter? Click here to see it in your browser.



DEAR FRIENDS
| | |
| --- | --- |
| This quote was written for me! I knew a lot about good wine before I bought Morgenster in 1992 but when I decided to make fine Bordeaux-styled wines I needed professional knowledge to make my dream a reality. I was fortunate to interest Pierre Lurton, Managing Director of Chateaux Cheval Blanc and Chateaux d'Yquem, to come to Morgenster. He saw the potential of our terroir and became our wine consultant and a member of our board of Directors. Since then he and his team have helped us to increase our knowledge, our quality and our pleasure in producing fantastic wines. In the picture you see Henry our cellar master next to Pierre, and to my left, Pierre-Olivier Clouet, the Technical Director of Cheval Blanc. | |
I am delighted with the response to our Amor diVino wine club which we introduced two months ago. Margi says look out for their Christmas offers! She and the tasting room team are excited to be welcoming our summer visitors from all over the world who come here to enjoy the pleasure of our wines and this beautiful farm.
During the second half of October Morgenster took part in the London Restaurant Festival in partnership with our importer Enotria&Coe. It is an exciting enjoyment of food and wine in the city's best restaurants. Our new Global Sales and Marketing Manager, Jason de Beer, represented Morgenster. We will ask him to tell us about it next month.
The summer jazz evenings start this month. Sitting at the restaurant on a warm summer evening is one of my great pleasures. Good jazz too. I hope I see you there?
Till next time,
Ciao!
Giulio.


FROM HENRY IN THE WINE CELLAR
I have just returned from my third trip to Italy, accompanied by our Farm Manager Corius. In Sardinia we investigated Vermentino grapes. As we will plant this cultivar in 2017 we want to make right decisions from the start.

Well, we fell in love with the varietal! It yields great fruit and expresses terroir, and we know Morgenster will produce special wine from it. It was interesting to see the way the producers live, their appreciation of food and wine, and how they integrate these into their vineyard practice.


Further north, Corius immersed himself into Nebbiolo and Sangiovese while I re-connected with good friends in the vineyards. As Corius said: "I returned with the view that Sangiovese makes great wine either on its own or blended. Tasting the Nebbiolo grapes and their wines gave us a vision of what can be achieved with this cultivar. Terroir expresses the different style of wines, and pruning methods and canopy management are key factors. By implementing what we learnt, we will build on our quality with the potential to produce a Nebbiolo among the best in the world".
During November the Bordeaux blend tastings in our tasting room include Morgenster White 2014, while Morgenster Reserve 2001 gives a great demonstration of good ageing of wine. It is contrasted with Morgenster Reserve 2009, a fat, large and beautifully integrated wine which gets better by the year.

The Morgenster Lourens River Valley tasting compares vintages 2003 – flavours of prunes and Christmas cake - and 2010 which expresses plum, chalkiness and beautiful soft tannins with Petit Verdot spiciness coming through.
OLIVE CELLAR NEWS

From Corius again : "Visiting Sicily let me see olive orchards ranging from 300 years old to very young. Producers there focus on quality rather than only production, as we do at Morgenster. They have olive oil in their blood and their love for the trees is very obvious. I really enjoyed their passion and enthusiasm.

I visited various producers looking at how they prune and cultivate the trees, and tasted oils that show elegance and great flavour. We came back with a lot of ideas for growing even better quality fruit."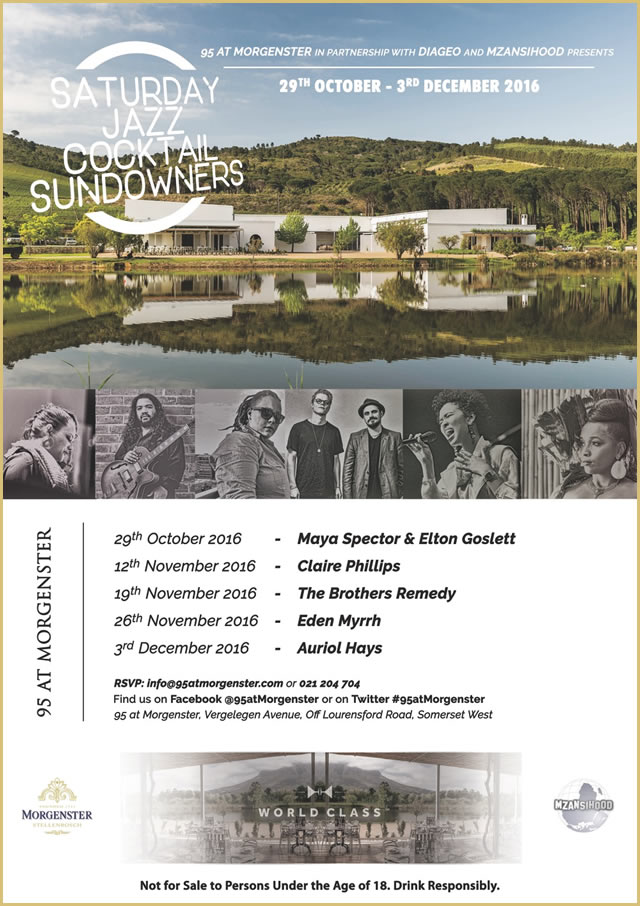 Starts 16h30. R595 for meal, cocktails and jazz evening. It's essential to book via info@95atmorgenster.com or +27 21 204 7048. More info at www.95atmorgenster.co.za.

CHICKEN STIR FRY

Here's a summer recipe for Chicken Stir Fry from Gourmet Butcher in Johannesburg.