Having trouble reading this newsletter? Click here to see it in your browser.



DEAR FRIENDS
It was a great pleasure for me that Tim Atkin, MW and respected international judge, rated my two 2013 Italian Collection reds, Nabucco and Tosca, at 93 points each in the 2016 version of his annual South Africa Special Report. I have always believed that we can produce great Italian styled wine on Morgenster. It seems so many years ago that I imported very special clones of Nebbiolo and Sangiovese from Italy and planted them here. The experience of my winemaker grew with each trip to Italy and as the vines get older, the wines get even better each year. Morgenster is the only place in South Africa where these clones can be grown.

The 42nd Nederburg auction over the weekend of 16-17 September was as usual very interesting. It was good to see record prices paid for fantastic South African wines, and overall the Rand per litre price moved up to its highest ever, of R740. The last available 48 bottles of my maiden vintage of Morgenster Reserve 2000 were sold, at just over R1000 a bottle.
Sometimes all this new technology is a challenge but inventing new things is my passion. So it is very exciting for Morgenster to be included from the start in a ground-breaking new project. Nicolò Stortiglione-Pudel (son of a good friend of mine) has launched Port2Port Marketplace. As I understand, and perhaps you know much more about these things than me, it is a collaboration of online wine and wine related sales sites – all hand-picked by Nicolò. Through Port2Port Marketplace buyers can order wines from different sources and have them delivered by placing only a single order. Nicolò included only six wine farms and I am extremely proud that Morgenster is one of these.
Till next time,
Ciao!
Giulio.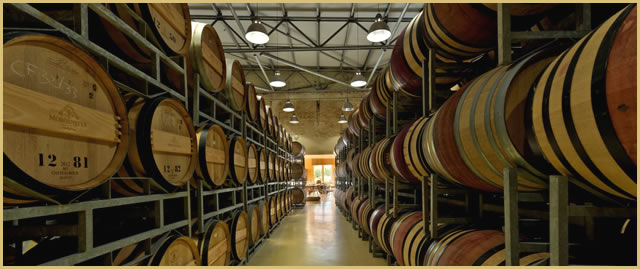 FROM HENRY IN THE WINE CELLAR
Our cellar team is busy bottling huge amounts of wine, including … drumroll … the second vintage of our new bubbly, Morgenster Cuvée Alessandra 2016. We will release the maiden vintage of Morgenster Cuvée Alessandra 2015 by the end of October. As we made only a few bottles they will all go to the restaurant, 95 At Morgenster, and our Tasting Room.

In the meantime, I am travelling in Italy on my third trip to work with Italian producers of Nebbiolo and Sangiovese. My first stop however was northern Sardinia where I gained more insights into the growing and production of wine from the region's famous Vermentino grape variety. Next year we will be planting a vineyard of Vermentino to create an Italian Collection white to partner with our Nebbiolo, Super Tuscan and Rosé.

During October the Bordeaux line-up in our Tasting Room includes our lovely complex Morgenster White 2014. For the red Bordeaux we continue to contrast older with newer vintages. Morgenster Reserve 2003, which we have dubbed "Liquid velvet" because its aromas of dark berries, cassis and kirsch with hints of chocolate and mocha unfold so subtly in the mouth, is compared with Morgenster Reserve 2012. This younger wine presents a terrific intensity of youthful fruit harnessed by acidity over minerality.

The tastings of our Morgenster Lourens River Valley range compare 2004 and 2012 vintages. 2004 has a ripe, expressive nose and a palate offering toasted tobacco, liquorice, spice, herbs and minerals. The 2012 has aromas of black and red cherries with strawberry shortcake and cassis. Its silky smooth and sweet palate has luscious ripe fruit woven into elegantly constructed tannins.
OLIVE CELLAR NEWS
Since great wines and olive oils start in the vineyards and orchards, Corius our Estate Manager is currently in Italy with Henry, working with wine producers as well as olive growers and consultants to keep up with latest developments and technology.

Back home the logistics team has been busy shipping extra virgin olive oil and wines around the world. Here they are posing after a job well done – packing a container of wine headed for China. From left to right in front, Nathan, Kenny the container packing specialist on loan from Cape Classics, Adrian and Roelof, while Corné took the high ground in the container.


Specially for the summer season! Look out for the new Saturday Jazz Cocktail Sundowners events at 95 At Morgenster.
Diners will enjoy a delicious set menu paired with exclusively designed cocktails from partner Diageo while they listen to fabulous jazz music played by world class performers.

The line-up is:
29 October - Maya Spectre & Elton Goslett
12 November - Claire Phillips
19 October – The Brother's Remedy
26 November – Eden Myrrh
3 December – Auriol Hays
Starts around 18h30, and it's essential to book via info@95atmorgenster.com or +27 21 204 7048.
More info at www.95atmorgenster.co.za.

SALAD SHIRAZI

Scott Shepherd, Executive Chef at La Petite Dauphine in Franschhoek, shared his recipe for fresh Salad Shirazi with us.