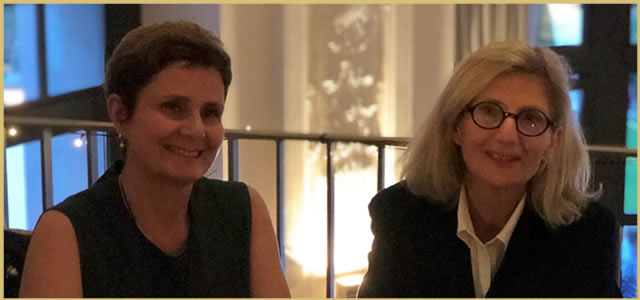 Alessandra Bertrand and Federica Bertrand

Our family has been comforted in the loss of our father and grandfather, Giulio, by the many messages sent to us, and by the memories that people around the world have shared of him. The esteem in which he was held by so many people is inspiring and we thank you for your kindness.
During early May we attended a week of launches of the farm's latest releases. Cellar master, Henry Kotzé, introduced eight wines, and Pierre Lurton joined us for the last two days.

Two of the wines were Bordeaux blends - 2014 Morgenster Estate Reserve and 2014 Morgenster Lourens River Valley. Two were Italian Collection reds - Tosca 2015 (a Sangiovese-led Super Tuscan) and Nabucco 2015 (Nebbiolo). Morgenster White Reserve 2015, a white Bordeaux blend made in the classic style from 55% Sauvignon Blanc and 45% Semillon had first been unveiled the previous year and was re-released to display a year's evolution in bottle.
The first of the 2018 vintage wines also made an appearance, and Henry will tell you a little more about them.

Morgenster's Cabernet Franc vineyards and wines are attracting attention. In the results of this year's South African Cabernet Franc Challenge released in April, Morgenster Cabernet Franc 2015 was in the top six, and Morgenster Lourens River Valley 2011 was judged one of the top three blends containing Cabernet Franc.
You can now look out for Morgenster's first bubbly to be released in retail quantities - Cuvée Alessandra 2016. It is made in the Méthode Cap Classique from ... Cabernet Franc.
We were delighted to hear that Morgenster has received an impressive pair of gold medals in the UK Sommelier Wine Awards. This is the only competition aimed solely at the on-trade. Judged by a panel of top leading sommeliers and on-trade drinks buyers, the competition rewards the best wines available to restaurants, bars and hotels in the UK and beyond.















In the category: New world Semillon & Semillon/Sauvignon Blanc, only one wine was awarded a gold medal - Morgenster Estate White 2014.

This white blend had a 'fresh, fragrant nose of summer gardens'", according to Suave Wine's Joseph Lunn, who went on to describe a palate that was 'savoury and complex, with great minerality'. Royal Automobile Club's Davide Dall'Amico found 'lime and melon rind on the nose, which opens out on the palate with soft peach, melon and a subtle nuttiness, with fresh acidity but a waxy texture, and a long finish, too, deserving of food".

Morgenster Estate Red 2001 also won a gold medal in the category: New World Cabernet Sauvignon, Merlot & Bordeaux blends, South Africa.

'A subtle but expressive nose of berries and oak nuances in harmony and balance,'was the praise for this wine from Coworth Park Ascot's Michael Fiducia. Team leader Angela Reddin thought it was 'showing development on the nose, with oolong tea and some developed fruit notes, and with an underlying fruit core'. 'Mushroom and leather aromas jump out, with stewed strawberries and a touch of spice, leading to softened tannins and integrated acidity, and a superb finish with some barnyard and umami flavours,' added Three Chimneys Restaurant's Petri Pentikainen.
Ciao!
| | |
| --- | --- |
| | |
| Alessandra | Federica |