Having trouble reading this newsletter? Click here to see it in your browser.



DEAR FRIENDS
We have just started our grape harvest, one of the most exciting times on this beautiful farm. The first grapes that came in are from an early ripening clone of Cabernet Franc. They are now in a 16-month process in the cellar before they appear again in our sparkling wine, Morgenster Cuvée Alessandra, made in the Méthode Cap Classique style. I named this wine after one of my daughters. I will let Henry tell you a little more about it.

| | |
| --- | --- |
| | Henry and I celebrated the start of Morgenster harvest outside the cellar. I always crush and add a pomegranate in with the first grapes to bless the harvest. It is an old tradition which gives me a great sense of connection with early winemakers, something which I enjoy. |
We were excited to hear that Morgenster Lourens River Valley 2010 received gold at the Sakura Wine Awards in Japan, an important market for us. It is a signification competition and this is the first time that we have entered.

I also heard in January that the South African Wine & Cellar Classification has added Morgenster Estate Reserve to its 2018 Hall of Fame for consistently highly rated vintages, as reviewed by judging panels over the past 10 years. We appreciate receiving this as consistent quality and expression of terroir are what we and our consultants at Chateau Cheval Blanc always aim for.

I thought you might find it interesting to see the pictures below of the preparation of our Vermentino vineyard. The soil is very similar to that of Sardinia, where our chosen clones come from - very rocky indeed!
Ciao!
Giulio.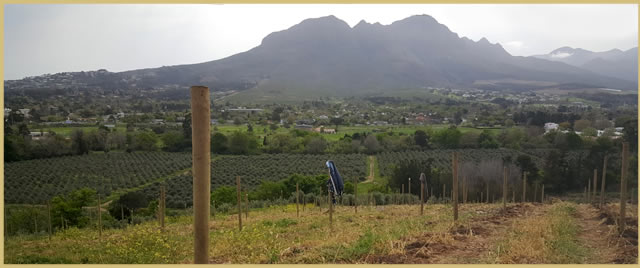 FROM HENRY IN THE WINE CELLAR
As you guessed, our news is all about harvest, with a bit of bottling in between. And, we have a surprise for you in our next issue - some spectacular large format bottles featuring Morgenster Estate Reserve 2010.

Our cellar team at the start of harvest 2018: Henry Kotzé, Samuel Snyders, Adrian de Vries and Naithan Adams. They may look calm for the photograph, but straight afterwards they were back to operating at warp speed!



Even though we have just brought Cabernet Franc grapes for the fourth vintage of Morgenster Cuvée Alessandra into cellar, the Estate has released only one vintage, 2015, the first. It was made in limited quantities and sold in our tasting room and 95 At Morgenster restaurant.

We think it is an intellectually interesting bubbly, traditionally bottle fermented, with intense flavour, big volume and fine bubble structure. During 2018 we will release the 2016 for wider sale and will let you know when it is available.




FROM NICO IN THE OLIVE CELLAR
We are keeping a close eye on water levels in the orchards as Cape Town has been very hot and dry. We are also monitoring the growth of the olives on the trees. Around the end of March, beginning of April we will start bringing in the first of our olives for processing. Each variety is processed separately, and the oil stored in separate settling tanks before blending. So, in this "quiet" period, we are preparing the factory for a very busy time.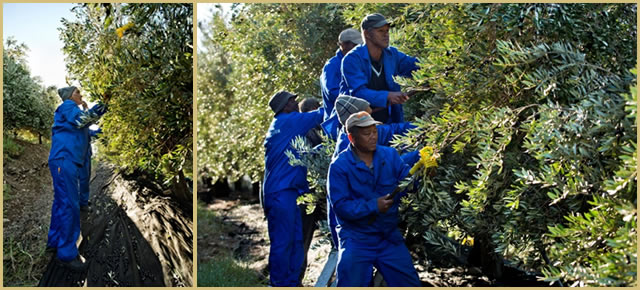 It has been a busy summer at 95 At Morgenster, where Chef Giorgio Nava's team has been creating exceptional modern Italian dishes that have guests rushing back for more.

The multitude of chef's choice piatti del giorno are a major drawcard. On the sea food front a variety of succulent prawns take centre stage. Think grilled carabineros with chimichurri, also known as cardinal prawns for their scarlet colour, and also of popular crumbed pink prawns. Served as a summer salad, the gamberi all'arancia are dressed with a silky prawn bisque that smacks of the sea. There are also a host of chef's choice dishes for carnivores. The trio di selvaggina - a venison plate of kudu, springbok and wildebeest - is another 95AtMorgenster show stopper.

The piatti del giorno change frequently as the chef sources exciting new ingredients.

95 At Morgenster, in this spectacular winelands setting, is open for lunch and dinner from Tuesdays to Saturdays, and for Sunday lunch. Call 021-204 7048 or email info@95atmorgenster.com to reserve your table.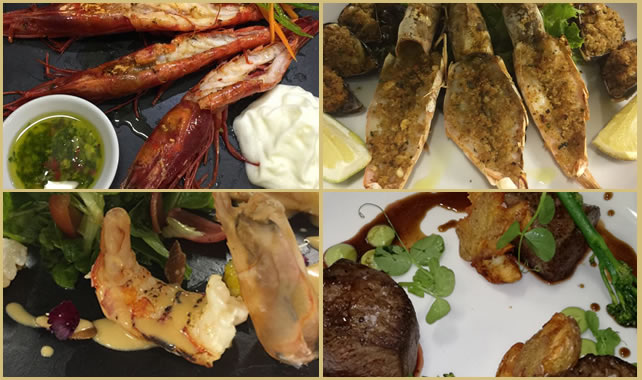 Pictured above clockwise from top left: Carabineros with potato foam and chimichurri, Cozze e gamberi gratinati, Trio of venison - Trio di selvaggina - kudu, springbok, wildebeest and L'insalata Gamberini d'arancia.




Tel: +27.218521738
Fax: +27.218520835
Email: info@morgenster.co.za
Website: www.morgenster.co.za
P.O. Box 1616, Somerset West, 7129, South Africa

No longer wish to receive this newsletter?
Unsubscribe from this list