Having trouble reading this newsletter? Click here to see it in your browser.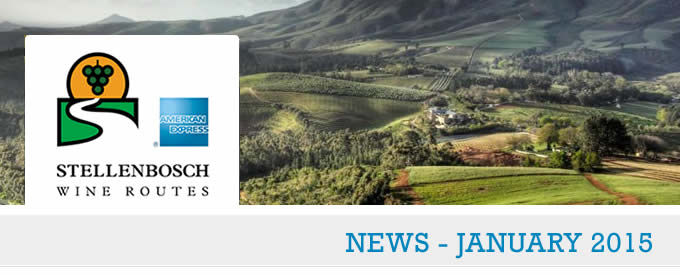 Dit is parstyd in Stellenbosch, en ons het vaatjies vol pret!



Besoekers aan vanjaar se Stellenbosch Wynfees aangebied deur Pick n Pay kan hulle gereedmaak vir 'n wyn- en leefstylervaring uit die boonste rakke. Van 30 Januarie tot 1 Februarie 2015 kan feesgangers die beste van Stellenbosch by die prentjiemooi Coetzenburg gronde geniet - die beste wyn, fynproewersgeregte, top kunstenaars en aktiwiteite vir die hele familie.




Make sure you don't miss out on the celebration of the annual grape harvest during the official harvest parade taking place this Saturday, when marching bands, Cape Minstrels, drum majorettes, decorated tractors and trucks will meander through the beautiful oak-lined streets of the historical town Stellenbosch. The parade pays homage to the thousands of men and women responsible for the incredible success of the wine industry in Stellenbosch and the surrounding areas; and also marks the annual harvest that will again yield the wonderful award-winning wines that have made the area a world-famous wine producing region.

The parade will start at 09h00 from Paul Roos and will wind its way through the Stellenbosch town centre and will end at the iconic Town Hall in Plain Street, where the official blessing of the harvest will take place at 10h00. Best vantage point is at the lower end of Plain Street or anywhere along the parade route.



The day's festivities will continue with a summer-style harvest street festival in Drostdy Street where guests will get to sample wines from 20 local wineries and have the chance to try delicious food and wine pairing options from local restaurants. The street will be closed off and musicians will provide live music, creating the perfect ambience for you to relax and enjoy all that's on offer. The street festival is taking place from 17h00-19h00. Tickets cost R60 and are available at the venue entrances at Plein, Church and Dorp Streets.





Participating wineries are offering unique experiences during this time, with the full list available on www.stellenboschwinefestival.co.za. Think snoekbraai at Kanonkop, sushi and chenin at Ken Forrester Vineyards, a truffle and fine old vintage pairing at Alto, and a speciality vineyard tour at Jordan, to name a few.



Don't miss a festival highlight, the Longridge Langtafel on Wednesday, 28 January, when the oak-lined Plein Street, in the heart of the town, will be transformed for an open-air gala dinner. The 200-seater table will be set in front of the iconic Stellenbosch town hall where guests will be presented with a feast paired with wines from the award-winning Longridge wine portfolio.

Tickets to the event cost R700 per person and can be purchased directly from Longridge. Tel: 021 855 4082.





Luister na van Suid-Afrikaanse se gewildste kunstenaars in 'n ontspanne atmosfeer tydens die uitmuntende somerkonserte wat daagliks by die fees aangebied word. Toegang tot die vertonings is ingesluit by die ingangskaartjie na die wynfees. Die superstemme van Riana Nel, Jannie Moolman en Corlea Botha smelt saam op een verhoog vir 'n musikale kaleidoskoop op Vrydagaand 30 Januarie van 20h00 - 22h00.



Saterdag kom die fluweelsagte jazzklanke van Auriol Hays en die virtuoso instrumentele vernuf van Sterling EQ aan die beurt. Jeremy Olivier sal Sondag die feesgangers met sy kitaar en sielvolle ballades vermaak, voordat Kahn (hoofsanger van die Parlotones) sy onoortreflike klas as solo-sanger bewys.

| | | |
| --- | --- | --- |
| | Meer as 350 wyne van deelnemende plase sal tydens die wynfeesnaweek te proe aangebied word. Dis die ideale geleentheid om jou wynkennis te verbreed, verskillende varieteite en nuwe oesjare te proe. Baie van Stellenbosch se vooraanstaande wynmakers sal persoonlik daar wees om hulle wyne aan die publiek bekend te stel. Etlike boetiekprodusente sal ook slegs Sondag hulle wyne te proe aanbied. Al die wyne is ook by die Pick n Pay wynwinkel te koop. | |

| | | |
| --- | --- | --- |
| | Another must-see during the three-day wine and lifestyle experience from Friday, 30 January to Sunday, 1 February at the Coetzenburg Sports Grounds is the Gourmet Lane. Visitors will be able to enjoy delicious treats from estate restaurants and local eateries, including Wild Peacock Emporium, Blaauwklippen, Eaglevlei, Brampton, Clos Malverne, Spier and Bistro 13 at Stellenbosch Vineyards. Each restaurant will present their signature dish perfectly paired with a specific wine from the farm or their winery partner. Some of the delicious offering include: fresh oysters, charcuterie and cheese platters, kebabs, gourmet wraps and burgers, pork belly, spring rolls, grilled quail lollipops, steak tartare, tempura prawns, fresh strawberries and cream, wine sorbet and more. | |

| | | |
| --- | --- | --- |
| | Pick n Pay SmartShopper kaarthouers kry die unieke geleentheid om spesiale kos-en wynkombinasies in die proelokaal te geniet. Wynmakers van Spier, Kleine Zalze, Villiera en Waterford Landgoed bied daaglikse sessies aan wat die geheime agter perfekte kos en wyn pasmaats verklap. Hierdie bekroonde wyne word aangebied saam met proeporsies wat die beste eienskappe van die wyne na vore laat kom. Sessies duur 30 minute en kan slegs 40 persone akkommodeer. Bespreek per e-pos by savannah@worldsport.co.za. | |





Ervaar die hart van die wynland en probeer 'n paar aktiwiteite eie aan die wyn. Daag jou vriende uit en toon jou vernuf met druiwetrap, vaatjierol en botteloopmaakkompetisies. Daar is ook die Pick n Pay Women's Walk pretstap op Saterdag, 31 Januarie ten bate van borskankerbewustheid. Die 5km roete is oop vir almal en vind deur die strate van die Eikestad plaas.

Bergfietsliefhebbers kan inskryf vir die 18km Momentum MTB Grape Ride op Sondag, 1 Februarie. Deelnemers aan die pretstap en bergfietsrit kry gratis toegang tot die wynfees, maar moet egter 'n proeglas koop om wyn te proe.

| | | |
| --- | --- | --- |
| | Die jongspan het ook meer as genoeg om hulle besig te hou by die spesiaal-ingerigte Momentum Health Kiddies Area met 'n Klouter Kabouter pretpark, gesigkuns en 'n kreatiewe hoekie. Daar is ook springkastele en opblaasbane vir groter kinders. Toegewyde en gekwalifiseerde oppassers sal aan diens wees om na die kleinspan te kyk, sodat ouers met 'n geruste hart die fees kan geniet. | |

| | | |
| --- | --- | --- |
| | Daily tickets to the Stellenbosch wine & lifestyle experience are available from www.webtickets.co.za at R170 per adult, which include a R20 voucher, redeemable at the on-site PnP wine shop. The daily ticket price for children between the ages of three and 17 is R60, while children under three enter free of charge. Follow the Stellenbosch Wine Festival on Twitter @StellWineFest and sign up for regular updates on Facebook. | |

Feesgroete!

Annareth Bolton
CEO Stellenbosch American Express® Wine Routes