Having trouble reading this newsletter? Click here to see it in your browser.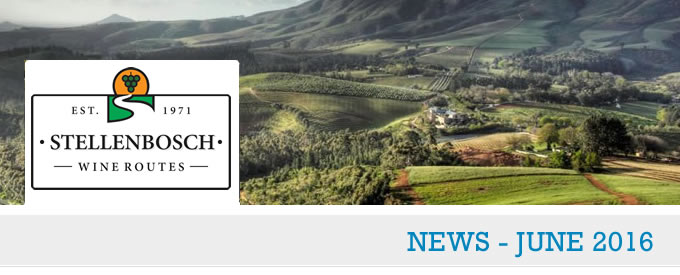 Winter is here... temperatures have dropped and Stellenbosch has been blessed with some much needed rain.

What's not to love about this time of year and people in the know sometimes refer to it as our secret season… why? Well, the days are often bright blue, with clear skies, mild sunshine and the air is crisp and fresh.These are the perfect days to explore the winelands whether you like adventure, art, agriculture, history, inspirational, feel good stories or simply savouring a glass or two of fine wine in front of a roaring fireplace.


Winter + Fireplace + Wine = Happiness!

Speaking of roaring fireplaces and fine wines…. this blissful combination certainly beats any grey and grim winter's day. And now is the perfect time to get toasty in Stellies.

There is no shortage of crackling fireplaces in our hood, in fact we have too many to mention them all. But herewith a few places that certainly know how to heat things up: try Simonsig, Ken Forrester Vineyards, Stellenbosch Vineyards, Hartenberg, Remhoogte, L'Avenir and Waterkloof. For more suggestions, swing by our Visitor Centre at 47 Church Street, or send an email to info@wineroute.co.za.

So let's raise our glasses and toast to a hearty winter!


#StelliesWinterSale

Stellenbosch has launched its annual offering of off-peak packages to suit any budget. Visit Stellenbosch this winter for a fraction of what you'd normally pay, and still get to add in any extra activities you've been dying to try!

Share your #StelliesWinterSale pics on Instagram and stand a chance to win a Luxury weekend in Stellenbosch.

To read more about #StelliesWinterSale click HERE.

Or the wonderful opportunity to win a weekend in Stellies clck HERE.

What's NEW…

Celebrating ten vintages of award-winning Idiom wines, the Bottega family has embarked on a new sensory adventure with the unveiling of an inspiring venue located at the top of their mountain vineyards on the outskirts of Somerset West near Sir Lowry's Pass. The new Idiom Restaurant & Wine Tasting Centre flaunts unique, panoramic views of the majestic Helderberg basin and the full expanse of the Cape Peninsula, from Table Mountain to Cape Point, with False Bay glistening in the foreground.

The venue, which opens its doors in June, offers fusion dishes of South African and Italian cuisine with a modern twist, all tuned to pair with the extensive Idiom wine offering. Guests can embark on virtual degustation tours of the great wine regions of the world, all cleverly expressed in a Cape Idiom, while taking in the arresting architecture and views. The exclusive 60-seater dining space is linked to Idiom's concrete wine tasting 'cube' where wine lovers can sample and purchase the flagship Idiom blends, the signature Idiom Italian varietal wines and apply for an allocation of the Limited Release Idiom 900 Series. A luxury goods space featuring Idiom's rare wine-inspired perfumes, exotic leather handbags and other must-have accessories will also be incorporated into the space.

It is a truly sensory experience engaging taste, smell, touch, sight and sound. Visit www.idiom.co.za.



Jordan Wine Farm has incorporated The Bakery into its portfolio and updated the offerings to showcase the synergy between soul and soil. The Bakery is open 7 days a week and yummy taste indulgences include a delicious selection of bread and baked goods, platters to share till 16h00, breakfast (or wait for it…) brunch on the weekend. The views from the deck are spectacular and a great way to soak up the beautiful winter splendour. We loved the pressed winter vegetable dish and the beer battered hake with triple cooked chips but strongly suggest that you work your way through the small but delicious menu to find your favourite. We know we will.

Catch them on Facebook at @BakeryJordan or www.jordanwines.co.za.



The Fat Butcher opened in Stellenbosch at 1 Van Riebeeck Road. Apart from the hormone free Chalmar beef it serves, it has one of the best Stellenbosch wine lists we have seen in a long time. This alone is a great reason to pop in for lunch or dinner.

Think Quality. Drink Stellenbosch.

Stellenbosch holds the honour of being the most well-known town in South Africa. History, culture, natural beauty, sport, education and wine have made the name 'Stellenbosch' resonates around the globe as one of South Africa's premier tourist, wine, business and education attractions. Besides its status as a leading cultural, education and leisure destination, it is wine that has made - and continues to make - Stellenbosch famous.

Wines from Stellenbosch are consistently good and consistently performs well in national and international wine competitions.

Here is a round-up of recent awards:


| | |
| --- | --- |
| • | At the 2016 Decanter World Wine Awards held in the UK recently, the The DeMorgenzon Chardonnay Reserve 2015 was named best in the world. |
| • | The annual RisCura Red Hot Wine Awards featuring Bordeaux-style red blends as made in South Africa, awarded no less than 9 of the awards to Stellenbosch producers. |
| • | Several Stellenbosch producers received honours and special awards at the The 2016 SAWI Wine Excellence Awards. |
| • | Delaire Graff Estate received the coveted Most Successful Producer Overall Trophy at the 2016 Old Mutual Trophy Wine Show followed by a number of Stellenbosch producers taking trophies. |

SA wine-minute with...

Yes we know our quality wines are a major asset to Stellenbosch, but so are its people. The amazing characters that shape the soul of our City of Oaks... the pioneering pulse and passion behind our forever young brand... and we salute them for sharing our pride with the rest of the world.

This month we introduce you to Jeanneret Momberg of Middelvlei... not that she needs any introduction!

If you were a type of wine, what would you be?
A full-bodied red with excellent maturation potential.

What's the last wine you tasted?
Middelvlei Shiraz 2015 - the 2015 vintage is definitely living up to its anticipated expectation!

Three things nobody knows about you?
That I have at least 3 secrets I am not prepared to share with anyone...

What is your best Stellenbosch memory?
A hike up Stellenbosch Mountain enjoying the most spectacular views in the world!

Favourite local hangout? Why?
Hudsons Burger Joint - they serve the best cocktails in town!



Until next time... Think Quality. Drink Stellenbosch.

Elmarie, Madalene, Shantal & Llewellyn

Stellenbosch Wine Routes Visitor Centre at
47 Church Street, for information, recommendations, referrals on accommodation, tours, experiences and activities.

Open 7 days a week - Monday to Friday 09h00 till 17h00 / Weekends and public holidays: 09h00 till 14h00

PS: Keep warm and remember to ask us for tips and ideas when planning the perfect winter weekend or Stellies staycation ...