Having trouble reading this newsletter? Click here to see it in your browser.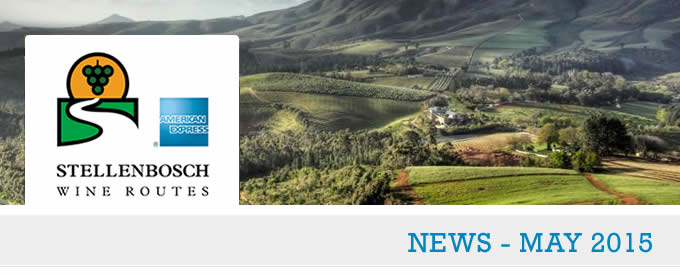 We have done it again! We made the sought-after shortlist for The Drinks Business Awards 2015 for the third consecutive year, once again vying for the top spot in the Best Contribution to Wine & Spirits Tourism Category.


Unveiled each year at the London Wine fair, The Drinks Business Awards of Europe's leading drinks trade publication have become the most authoritative, internationally respected badge of achievement in the alcoholic drinks industry. Now in its 12th year, this competition grants companies and individuals to win high profile recognition in front of the industry's most influential representatives.


This year we are the only local contender in its category and is up against Susana Balbo Wines (Argentina), Taste Hungary, Winerist (UK based) and Zonin 1821 (Italy). We hope to impress as overall winner in its category which recognises those creating authentic, personalised and compelling experiences for customers wishing to encounter our favourite wines in our own territory.


The winners will be revealed on 19 May at the London Wine Fair, Olympia. Hold thumbs with us!


This nomination follows on the recent success of our second annual #Stellenblog blogger initiative, which we hosted in conjunction with Stellenbosch 360 as part of our destination marketing campaign, Stellenbosch Experience. This digital campaign saw some of the most influential international and domestic bloggers taking part in a week-long itinerary to absorb the Stellenbosch Way of Life like the locals do. Their uncovering and digitally sharing of the secrets and stories of the personal encounters with South's Africa's oldest and foremost wine route with the world, generated great buzz on social media.

Between the seven top travel, lifestyle and food bloggers that spent the week in the company of Stellenbosch, was a combined following of 200,000 unique readers per month, 356,000 Twitter followers, 51,000 Instagram followers and 95,000 Facebook fans.

During the #Stellenblog week (1-7 May) the campaign (measured by its hashtag) generated an Advertising Value Equivalent (AVE) of more than R15 million and created 68 005 612 opportunities to see. This is phenomenal and it will only increase over the next few weeks as the blog posts get posted and shared globally. Another interesting statistic is the high engagement and participation of consumers. 99% of mentions were by consumers; 62% of tweets were engaged with, thus shared or commented on, and more than 1500 unique authors, not just the seven bloggers, actively used the hashtag. Watch the blog for our winter packages, launching soon!



Congratulations to ten of our producers, for being included in the Christian Eedes Cabernet Sauvignon Report 2015. They are :

• Waterford Estate 2012
• Le Riche 2012
• De Trafford 2012
• Laibach The Widow's Block 2012
• Oldenburg Vineyards 2012
• Rust en Vrede Single Vineyard 2012
• Vergelegen V 2011
• Spier Woolworths Reserve 2012
• Stark-Condé Stellenbosch 2012
• Warwick Blue Lady 2012

Join us for a winter-busting food and wine evening toasting the Helderberg, on Thursday 11 June 2015. The NH Lord Charles Hotel in Somerset West is set to be a one stop wine route of home-grown deliciousness, when Taste the Helderberg 2015 serves up an exclusive evening of quality wine and food unique to the area for one night only.

Limited tickets are available at the cost of R80 per person. The ticket includes an elegantly branded wine glass and access to tasting some of the best wines in the country. Numerous restaurants will tempt the taste buds with mouth-watering portions of their signature delights which will be on sale throughout the evening. The doors will be open from 17h00 to 21h00 but guests are encouraged to come early to make the most of the evening.

For more information, click HERE or call 021 886 4310. Tickets will also be available at the door.



Our commitment to education was re-affirmed when twelve travel consultants from Rennies' Travel and Amex Travel offices in Johannesburg and Durban completed a week-long information and orientation course in Stellenbosch as part of the Stellenbosch Wine Routes' project of creating ambassadors for the area among upcountry travel agents.

Stellenbosch and its winelands are national tourism gems and it is our obligation to market our region to an influential national audience. By introducing our product and array of offerings to influential travel consultants, Stellenbosch wants to create an awareness and demand of our wine tourism offerings to a new and growing market. We believe that this new found passion for Stellenbosch and wine will lead to these travel operators including us under their 'must sell packages'.



South Africa's first gourmet Chocolate Festival is being hosted indoors at Lourensford Wine Estate in the Stellenbosch Winelands on 25 - 26 July 2015.

This exciting two-day chocolate affair will offer inspirational hourly demos at 'The Chocolate Theatre' by Master chocolatiers, top pastry chefs and fondant artists. The market stalls at the Chocolate Emporium will offer both 'Chocolate Decadence' and 'Chocolate as Superfood' highlighting the two faces of contemporary chocolate.

This is an unprecedented collective of the top SA talent in the chocolate industry – all together under one roof – an opportunity not to be missed.



Let us know if we can be of assistance planning your ultimate trip to Stellenbosch, or even just your next wine tasting outing! Make sure you visit our blog for all the latest news and events.

Until next time!

Annareth Bolton
CEO Stellenbosch American Express® Wine Routes