Having trouble reading this newsletter? Click here to see it in your browser
.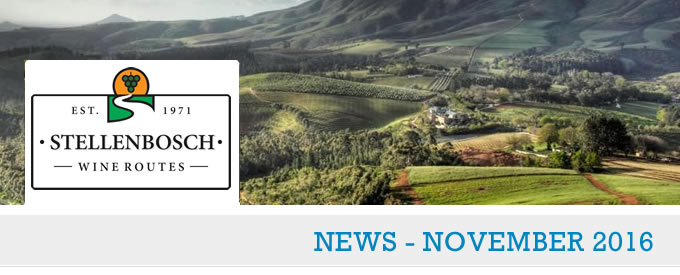 As we get to the end of year, I am sure we are all feeling it... a sense of weariness as we say goodbye to yet another kicker of a year. But hang in there, as the holidays are just around the corner.

Speaking of the holidays, Capetonians are often faced with the dilemma of hosting their local and international visitors in one of the world's favourite cities, whilst also wanting to get away from it all for the holidays. In Stellenbosch they will find the perfect balance this summer. Herewith a few top tips in hosting your guests this year.

What's new on the winelands foodie scene

After a year of renovation, Glenelly has opened its doors to a beautiful brand new offering. There are layers and layers of changes and we invite you to explore them all. We love the new-look labels and delightful logo, the tasting room has been transformed into a sleek and contemporary space and be sure to book a tour of the spectacular and unparalleled Glass Museum! It houses Madame de Lencquesaing's Glass Collection that is truly out of this world. To book a viewing contact 021 809 6446 or email tasting@glenelly.co.za.
The pièce de résistance is the Vine Bistro, with Chef Christoffe Dehosse of Joostenberg fame. On the menu, you'll find a delicious selection of bistro type dishes, made freshly from what is in season and available. The menu changes often but during our visit we enjoyed the white asparagus, tuna tartare, yellowtail and pork cheeks. Bookings at the restaurant on 021 809 6444 or bistro@glenelly.co.za. Don't not miss this winelands gem when visiting Stellenbosch during the festive season.

Closer to the historic center of Stellenbosch, you'll find Bertus Basson's new Spek and Bone wine bar and small plates restaurant. You'll find this charming whole in the wall at 84 Dorp Street, Stellenbosch (right next to Oom Samie's shop). Opening times: Lunch served from Tuesday to Saturday 11.30am to 2.30pm and dinner trading from Tuesday to Saturday 5.30pm to 9pm. Contact 082 569 8958 or email info@spekenbone.com.

Think Quality. Drink Stellenbosch.

It's the time of year for round-ups, Top Tens and Best Ofs, so we thought we'd share with you the latest Stellenbosch Wine Routes achievements South Africa's granddaddy of wine routes, the Stellenbosch Wine Routes, which might be considered a golden oldie with its winemaking legacy spanning over more than four decades, has reaffirmed its standing as a world class wine destination with shining results at the 2017 Platter Awards... read more.

Out and About in Stellenbosch

Stellenbosch Street Soirees back in full swing
Warmer weather and longer days echo the return of the ever-popular Stellenbosch Street Soirees - bi-monthly street parties bringing together wine farms, restaurants, locals and visitors in the vibrant streets of the City of Oaks. The Stellenbosch Street Soirees will take place every second and last week of the month for a hip crowd to immerse themselves in the inimitable food and wine culture of this forever young town, with live music adding to a cool and casual vibe. Make a note of the dates and don't miss these wine soirees. 30 November 2016, 14 December 2016, 11 & 25 January.

Sunset Carols at Middelvlei
On 11 December 2016 Father Christmas, will once again be making his appearance on his tractor at Middelvlei Wine Estate's annual Sunset Carols. As the sun sets over the Middelvlei dam we will be singing carols while a Steakbraai sizzles and Father Christmas delivers the presents. The Sunset Carols event will be in benefit of Stellenbosch Youth Outreach. Join us for this memorable evening and celebrate the start of the festive season with family and friends.
Booking is essential on 021 883 2565 or email boerebraai@middelvlei.co.za.
Sunday 11 December 2016 | 18:30 | Adults R170 (Steakbraai included) | Children under 12 R70
Bring a gift for your child from Father Christmas!

Save the date for Stellenbosch Wine Festival, presented by Pick n Pay 2017
Lovers of the grape and all things gourmet will be delighted to know that the annual Stellenbosch Wine Festival will take place late February next year. Held at a central venue in the heart of Stellenbosch - Coetzenburg Sports Grounds - you can tantali se your taste buds from Friday, 24 February to Sunday, 26 February 2017.
For more information, visit StellenboschWineFestival.co.za. Ticket sales are open, go over to Webtickets and get yours now!


SA wine-minute with...

Stellenbosch is not only well known for its premium wines, but also for its people and their stories. The amazing characters that shape the soul of our City of Oaks... the pioneering pulse and passion behind our forever young brand... and we salute them for sharing our pride with the rest of the world.

This month we introduce you to Nora Sperling-Thiel Director at Delheim...

If you were a type of wine, what would you be?
Probably a Shiraz - it's my favourite wine... a little like me... strong and full bodied ... and great in winter... love winter.. also, full of complexity but gets better with age...

What's the last wine you tasted?
We just had an Eleanor from Hartenberg which was a present from Karl and Carin Schultz... enjoyed it with dinner last night.

Three things nobody knows about you?
Maybe I should keep them secret... was the victrix ludorum at primary school and held the shotput record for under 13 year olds for many years. Got my motorbike license two years ago and enjoy riding the BMW 1200 GRS. Busy studying again... life is too short to stop learning... especially learning to think... something we did not get to do when we grew up.

What is your best Stellenbosch memory?
Being on top of the Twin Peaks - looking down across Jonkershoek Valley and all the way across the Cape Peninsula. This is the most awesome hike I have done in Stellenbosch. Have been up Simonsberg, Botmaskop, Stellenboschberg and Jonkershoek Valley. We are surrounded by incredible mountains and getting a new perspective on Stellenbosch from up there helps to realise how privileged we are to live here.

Favourite local hangout?
I don't have one favourite - depends on the mood where we go... having lived in Stellenbosch for all my life it is difficult to choose only one place... Basic Bistro to see Julian, The Hussar Grill to say hi to Craig, Schoon de Companje to chat to Fritz or Abigail, and for us oldies... Die Akker...for a beer...

Congratulations!

The very talented Murray Barlow of Rustenberg Wines was named Diners Club Young Winemaker of the Year 2016 (also winning the prestigious title in 2013) recently. We salute your passion and your genius and celebrate your accomplishments.

We also raise out glasses to Tertius Boshoff (Stellenrust Wines), Jacques Erasmus (Spier), and Jasper Raats (Longridge) - shortlisted for this sough-after achievement. Seeing five out of nine winemakers from Stellenbosch is once again testament to the premium quality and talent aplenty in the Stellenbosch wine region.

Last but not least we would like to congratulate Gregory Gzarnecki of Waterkloof Restaurant for clinching the enviable Chef of the Year title at the 2016 Eat Out Awards. Their 'Restaurant in the sky' also sizzles in the 3rd spot in the esteemed Top Ten line-up. Champhor's at Vergelegen and Overture also made the Top 10.We

Until next time... Think Quality. Drink Stellenbosch.

Elmarie, Madalene, Shantal & Llewellyn

Visit Stellenbosch Wine Routes Visitor Centre at
47 Church Street, for information, recommendations, referrals on accommodation, tours, experiences and activities.

Open 7 days a week.
Monday to Friday 09h00 till 17h00.
Weekends and public holidays 09h00 till 14h00.

| T | +27 21 886-4310 & +27 21 882-9063 • | E | info@wineroute.co.za • | W | www.wineroute.co.za

47 Church Street & 36 Market Street, Stellenbosch, 7599

No longer wish to receive this newsletter? Unsubscribe from this list.