Having trouble reading this newsletter? Click here to see it in your browser.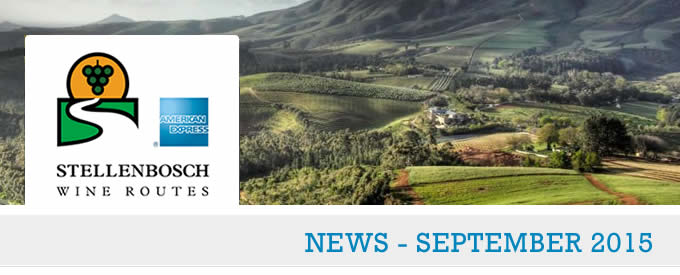 | | | |
| --- | --- | --- |
| | | |
| | Spring has arrived and there's an air of summer about Stellenbosch. From free events and festivals to decadent dinners and hot-ticket shows, Stellenbosch has lined up a summer calendar that will keep visitors (and neighbours) coming back to the City of Oaks. For more, click HERE! | |
| | | |

In August and September we hosted a number of traditional and online media, particularly for the successful #soloStellenbosch and #DiscoverHelderberg blogger campaigns.


Follow the hashtag #soloStellenbosch to see what these phenomenal solo women had to say and check out this video reel of their time travelling alone in the City of Oaks.

We are exploring a few of the Stellenbosch sub-routes like the Helderberg with storytellers and online influencers. Follow #DiscoverHelderberg on Twitter and Instagram for updates on what the group got up to, check out videos of their stay (Day 1 and Day 2), and this awesome travel diary by Life of Mike on Youtube. Here's a breakdown of who joined the group and what the itinerary entailed, but we're also posting their stories on our Twitter feed - go and have a look @StellWineRoute.




This group of bloggers will be returning to Stellenbosch in October to #seeStellenboschValley, so keep an eye out for more of their stories and Stellenbosch experiences!

#Stellenblog 2.0 at Longridge Wine Estate


#Stellenblog 2.0 took place on Sunday, 13 September as part of the Cape Wine 2015 programme. Close to 130 overseas and South African wine trade and media made their way through the doors to enjoy the delicious food and wine offerings of our Stellenbosch Experience partners, beautifully paired with views over the Stellenbosch vineyards to Table Mountain. For more, read HERE.




With its unique combination of soils, sites and skilled winemakers, Stellenbosch is establishing itself as the 'Kingdom of Cabernet' in the South African winelands. On Monday 14 September, a landmark event was held in Cape Town, as part of Cape Wine 2015. Read more HERE.



Gauteng will experience the pinnacle of Stellenbosch's finest pleasures, when Stellenbosch at Summer Place 2015, an opulent showcase of wine, food, music and art from the City of Oaks, will get its glitz on in the City of Gold on Wednesday, 25 November.


Annually presented by Sanlam Private Wealth in a class all by itself, Stellenbosch at Summer Place is one of Jozi's most sought-after social events and this year's polished line-up promises to take the good life to the next level when Stellenbosch makes its sumptuous pilgrimage to the north.

Read more and book your tickets HERE

.


We are constantly working towards our missions, one of them being to capture ambassadors for Stellenbosch and the bigger wine industry. During the month of September six students, as well as two lecturers from the University of Johannesburg's School of Hospitality and Tourism spent four days in Stellenbosch and surrounds to learn more about South Africa's wine capital. The aim of these visits is to provide students with a true feeling for Stellenbosch and the South African wine culture, as well as building loyalty towards the Stellenbosch brand.


The visit included cellar tours and visits to most of Stellenbosch's top tourism destinations and restaurants. By exposing this group of students to the Stellenbosch culture, food and wine experiences, we believe the Stellenbosch brand will top their list when they become influential young professionals in the gastronomy industry.



Let us know if we can be of assistance planning your ultimate trip to Stellenbosch, or even just your next wine tasting outing! Make sure you visit our blog for all the latest news and events.

Until next time!

Annareth Bolton
CEO Stellenbosch American Express® Wine Routes