Stellenbosch Wines shines in wine competitions
Stellenbosch Wine Routes is not known as the Wine Capital of South Africa for nothing. Our producers consistently perform well in competitions. Here is a round-up of our achievements for the last month or so ...
Stellenbosch takes Absa Top 10 Pinotage competition by storm
The Stellenbosch Wine Routes has again been singled out from its peers with no less than six of the 21st annual ABSA Top 10 Pinotage competition winners stemming from South Africa's premier wine route.
The ABSA Top 10 Pinotage is South Africa's biggest competition for producers of wine from this South African-developed variety that is now successfully grown around the world and the Stellenbosch wines that took this year's contest by storm were:
Delheim Pinotage 2012
Flagstone Writer's Block Single Vineyard 2015
Kanonkop 2012
Lanzerac Pionier 2014
Stellenbosch Vineyards Bushvine 2015
Niel Ellis Bottelary Hills 2015
In addition the Museum Class Award (for wines at least 10 years old) went to the Neil Ellis Vineyard Selection Jonkershoek Pinotage 2007.
"This achievement shows our passionate commitment to support this proudly South African varietal and we salute all our Top 10 Stellenbosch champs for flying the Pinotage flag high." says Stellenbosch Wine Routes Manager Elmarie Rabe.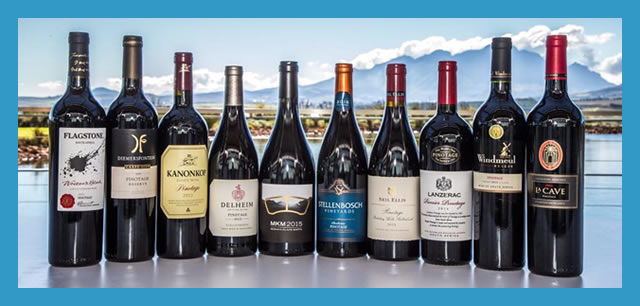 Sommelier Selection 2017
Now in its third year, the Sommelier Selection is the first South African wine competition judged solely by a panel of South Africa's Top Sommeliers, in categories moulded around those of a "wine list".

The Sommeliers Selection is young, plugged-in and targeting the everyday wine drinker through new and innovative ways. Winning wines, referred to as "Listed Wines" will be listed on the sought-after Sommeliers Selection Wine List. This wine list will be distributed countrywide to trade and restaurants. Look out for:
Alto Wine Estate Alto Rouge 2015
Cavalli Wine & Stud Farm Cremello 2015
Flagstone Wines Dark Horse Shiraz 2014
Flagstone Wines Dragon Tree - CabSauv/Shiraz/Pinotage 2014
Flagstone Wines Truth Tree Pinotage 2016
Flagstone Wines Treaty Tree Reserve - SauvBlanc/Semillon 2016
Hartenberg Wine Estate Alchemy - Merlot/CabFranc/Malbec 2015
Idiom Shiraz Mourvèdre Viognier Blend 2010
Laibach Vineyards The Ladybird Red Organic 2015
Lothian Vineyards Pinot Noir 2016
Oldenburg Vineyards Syrah 2013
Spier Wines Creative Block 2 2016
Spier Wines 21 Gables Chenin Blanc 2015
Villiera Wines Tradition Brut NV
Villiera Wines Jasmine 2017
Villiera Wines Domaine Grier Rosé 2016
Villiera Wines Domaine Grier Grenache 2014
Villiera Wines Tradition Brut NV
Novare Terroir Awards
The Novare SA Terroir Wine Awards honours the wines which truly portray South Africa's different wine growing areas. After receiving more than 320 entries for the 12th annual Novare SA Terroir Wine Awards, almost equal to last year's record entries, wines were tasted, judged and awarded. Click here for the results.