Having trouble reading this newsletter? Click here to see it in your browser
.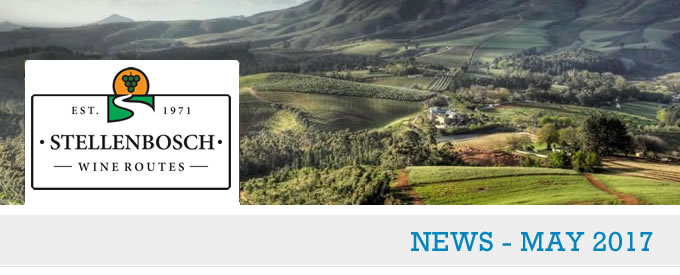 | | | |
| --- | --- | --- |
| | | |
| | As the vine swept hills are shedding its vibrant gold coat and the air becomes fresh and crisp we are looking forward to winter, big red wines, crackling fires, relaxed lunches with family and friends and hopefully some rain. Here are just some of the activities that you can indulge in, in the coming weeks. | |
| | | |

Taste the Helderberg - 15 June 2017



It's time to shun the cold of winter and light up at Taste the Helderberg - the sophisticated annual sip-and-snack institution of warm company, levity and gastronomic delight. For one night only, wine farms and restaurants in the desirable Helderberg region spread their rainbow colours in a showcase of fine local fare that takes place in Somerset West on Thursday, June 15. This year, you're invited to shed the winter blues by donning something red - the theme colour that makes an eye-catching statement.. Click here for more information.

Winter Wednesday Live Music - bi-weekly till September



From now until September Neethlingshof is continuing, by popular demand, with their Winter Wednesday Live Music evenings. This is the perfect mid-week break to wine-down, relax and recharge. While keeping warm in front of the fireplace, savour a delicious bottle of Neethlinghof's finest and satisfy the hunger pangs with pizza, nachos or a snacking platter. A line-up of popular acoustic guitarists will keep you entertained and coming back for more with sounds of folk and rock every second Wednesday from 17h30 till 20h30.
Contact the tasting room for bookings or enquiries on 021 883 8988.

Stellenbosch Cabernet | The Collection - 22 June 2017



Stellenbosch Cabernet - The Collection - promises Gauteng wine lovers an extraordinary once-off experience. On 22 June - for one night only - twenty four of the country's premier Cabernet producers will be bringing the best of their current and pre-release young wines (together with a select array of older and mature vintages) to the nation's fine wine capital.
The exclusive event, taking place at the Hyatt Regency, is limited to 150 guests, who will have access to an 8-wine masterclass® programme where the very best wines from Stellenbosch, the undisputed masters of South African Cabernet will be showcased to highlight the triumphs of the past, as well as the most extraordinary of the contemporary achievements.
Stellenbosch Cabernet - The Collection's Masterclass® comprises eight wines spanning 46 years: Klein Zalze Cabernet 2005; Waterford Cabernet 2003; Uitkyk Carlonet 2001; Le Riche Cabernet Reserve 1997; Warwick Cabernet 1995; Neil Ellis Cabernet (Jonkershoek) 1994; Kanonkop Cabernet 1984 and Zonnebloem Cabernet 1971.
The ticket to The Collection costs R950 per person and includes the VIP masterclass®, the walk-around wine tasting, canapés and bubbly on arrival, and a gourmet BBQ. Click here to book.

Prescient Cabernet Report 2017...



Stellenbosch, with its unique combination of soils, sites and skilled winemakers, is establishing itself as the kingdom of Cabernet in the South African winelands. No less than 14 of the Top 15 Cabernet Sauvignons from this historic wine-growing region took top honours when the sixth annual Cabernet Report (in partnership with Prescient for the last two years) was released recently.

Top 15 accolades, obtaining a score of 90 or higher went to: Neil Ellis Jonkershoek Valley Stellenbosch 2014, Bartinney 2014, Jordan The Long Fuse 2014, Kleine Zalze Family Reserve 2013, Le Riche Reserve 2014, Peter Falke 2013, Rustenberg Peter Barlow 2012, Tokara Reserve Collection 2013, Waterford Estate 2014, Warwick Blue Lady 2014, Neil Ellis Stellenbosch 2014, Spier 21 Gables 2014, and Vergelegen V 2012. Strydom Rex 2014 and Groot Constantia also made the Cabernet honour roll. Click here for the full report.

Hope you enjoyed this sneak-peak of life in and around the Stellenbosch Wine Routes.

Until next time, cheers and keep warm!

The Stellenbosch Wine Routes team

Visit Stellenbosch Wine Routes Visitor Centre at
47 Church Street, for information, recommendations, referrals on wine tasting, tours, accommodation, experiences and activities.

Open 7 days a week.
Monday to Friday 09h00 till 18h00.
Weekends and public holidays 09h00 till 15h00.

| T | +27 21 886-4310 & +27 21 882-9063 • | E | info@wineroute.co.za • | W | www.wineroute.co.za

47 Church Street & 36 Market Street, Stellenbosch, 7599

No longer wish to receive this newsletter? Unsubscribe from this list.